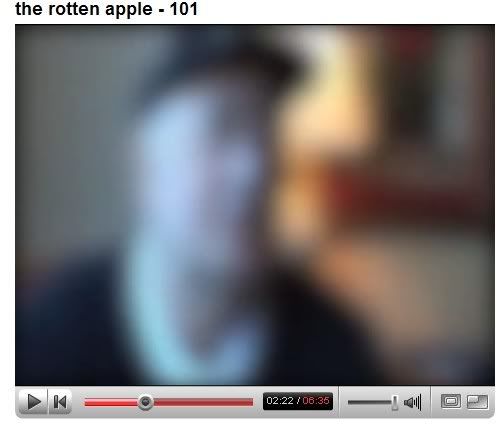 This mysterious figure from Rotten Apple 101 is Victor Spinetti. The British actor has numerous Beatles connections. He played the TV Director in "A Hard Day's Night." He was Professor Foot in "Help." As the Army Sergeant he did nasty things to a cow in "Magical Mystery Tour." He starred in the stage adaptation of Lennon's "In His Own Write." And he even appeared in Paul McCartney's Londontown video.
In Rotten Apple 101 with his image distorted, Spinetti talks about magic and then describes the violent death of former Beatles road manager Mal Evans. Where did Iamaphoney get this footage? My theory is that Iamaphoney or one of his people personally interviewed Spinetti. If you look at the video
"a Lie Adds Up - son king 0911 281 F" http://www.youtube.com/watch?v=Acb2mHmMW1I
the character who may represent Iamaphoney attends a Beatles convention. Spinetti is a frequent guest at these gatherings. We also see several other pieces of similar footage with other convention stars such as author Bruce Spizer and drummer Pete Best.
Can you imagine what this means if my theory is true? It means that several of the peripheral characters in Beatles history have encountered the Rotten Apple Army face to face. How clever would it be for Iamaphoney to ask the right questions to produce PID-sounding answers in interview subjects who have no clue what the interviewer's motives are? It's a risky thing for Iamphoney to do because if their comments are taken out of context (which would not be a shock!) they could out Iamphoney as a fraud…unless of course, the entire Iamaphoney scenario is true.
Incidentally if Iamaphoney did use interview comments out of context, which he has done on previous Rotten Apple videos, he is not alone. It happens a lot. Even the Beatles Anthology has John Lennon saying, "Brian [Epstein] was a beautiful guy and he presented us well." The quote might be accurate, but it was cut off in mid sentence. Lennon actually said those words while making the point that Brian got bad business advice and allowed the Beatles to lose millions because of the bad deals he made.
Footage from the same Victor Spinetti interview has appeared on previous Rotten Apple videos.