I was asked to do a post about "
Condensed Pilgrim
," the latest video from
RockXLight
(aka Jude).
It is a well crafted video with some sweet moments (such as George Harrison giving a rare smile for the camera) and some disturbing ones as well. Be warned that the video contains the often used shot of Lennon's face that made the tabloids when some parasite slithered into the morgue (Yoko used the image herself in the video for John's song
Woman
), as well as the full frontal nudity of the "Two Virgins" cover. There is also an effective, but disquieting image of Beatle Paul that suddenly is splotched with a blood red color.
The video has some great moments including footage of Derek Taylor saying "[If the Beatles tried to reunite without John] I think rotten apples would be thrown at the stage." What an outstanding find! The soundtrack also seemed to take a bit of work.
The video ends with the question "Are you really out there?" written backwards. The description asks "O when will you make your move?" (Funny how everyone is using game terminology these days)
I received an anonymous comment about this video that prompted a response from Jude.
Anonymous said...
I don't get it. Why the elaborate charade, Jude? You don't really think Lennon's still alive, do you?
Jude said...

Elaborate charade?

Please. I'm no more behind a charade than IAAP himself. I'm no more behind a charade than oskarros, who went looking for the briefcase only to find Paul McCartney standing outside of a limo with a man who looked John Lennon.
That's not exactly a denial if you read it carefully.
My first question was: "Who is this oskarros?"
My best guess is that it is a misspelling of YouTubaPlayer
oskarrakos
See Comments under
Rotten Apple #111
for more information.
The second question is a tougher one. Who is Mr. Pilgrim?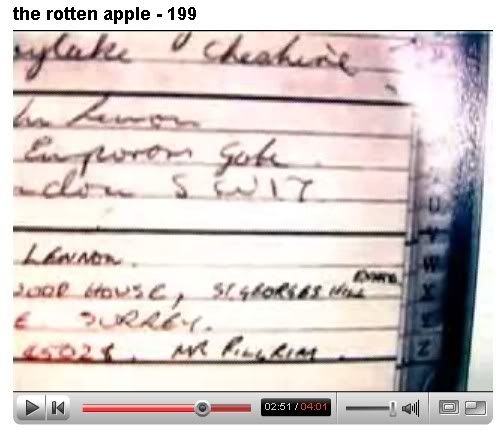 When a video appeared called
The Pilgrim
under the Iamaphoney alias
Y0KOONO
, MikeNL posted this message on
Nothing Is Real
:
John Lennon = alive?
I don't know how that was derived from that video, but I do know that prior to that, MikeNL was inquiring about the identity of a Mr. Pilgrim based upon communication with Iamaphoney. Now Jude's video appears to be suggesting that same thing.
Interestingly,
the Liverpool Echo did a curious thing recently when they took an old picture of John Lennon and doctored it so he appeared to be older
. I have no idea what would cause them to do that.
Real Picture:
Echo Picture:
Jude claims that he is lifting the veil, but are we really any closer? I am reminded of the magicians scenes in Magical Mystery Tour. They report that the bus is ten miles north on the Dewsbury road. The people on the bus go through all kinds of adventures and then later in the film the scene goes back to the magicians. They are all excited because the bus will soon be here. So where is the bus? Ten miles north on the Dewsbury Road. The bus really hasn't moved. It's all in the mind, ya know.
Please don't be long. Please don't you be very long. Please don't be long or I may be asleep.